Faculty: Heather Leary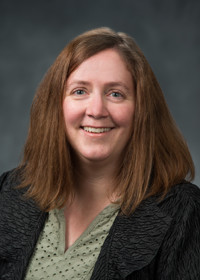 Heather Leary
Title
Associate Professor
Department:
IPT, EIME
Contact Information
Office: 150-G MCKB
Phone: 801-422-2765
Email: nope@heather.leary@byu.edumsn.com
Website: www.drheatherleary.com
Dr. Leary is an Associate Professor of Instructional Psychology & Technology. Her research focuses on tackling complex educational challenges in K-12 and higher education. She works collaboratively with practioners in various disciplines (e.g., science, math, arts) and spaces (e.g., online environment, professional development) to iteratively design and implement potential solutions. She uses design-based research, research-practice partnerships, problem-based learning, and research synthesis to generate useable knowledge and alignment between the principles of learning and instructional practice.

She graduated from Utah State University in 2012 with her PhD in Instructional Technology and Learning Sciences. She was a post-doctoral researcher at the University of Colorado Boulder in the Institute of Cognitive Science and a Visiting Research Scientist at the University Corporation for Atmospheric Research from 2011-2015. She designed curricula for the online programs at BYU-Idaho from 2015-2016. She is an active member of the Association for Educational Communications and Technology (AECT), the American Educational Research Association (AERA), and International Society of the Learning Sciences (ISLS).
Undergraduate Courses:
IPT 371 - Integrating K–12 Educational Technology 1
IPT 372 - Integrating K–12 Educational Technology 2

Graduate courses:
EIME 720 - Design-Based Research
IPT515R - Problem-Based Learning
IPT 520 - Foundations of Instructional Technology
IPT 653 - Qualitative Research I
IPT 661 - Introduction to Evaluation
IPT 753 - Advanced Qualitative Research
Teacher Professional Learning
Technology Integration
Problem-Based Learning
Curriculum Adaptations
Student Success
STEM+Arts Education (STEAM)
21st Century Skills and Literacy
Problems of Practice
Design-Based Research
Research-Practice Partnerships
Meta-Analysis and Meta-Synthesis